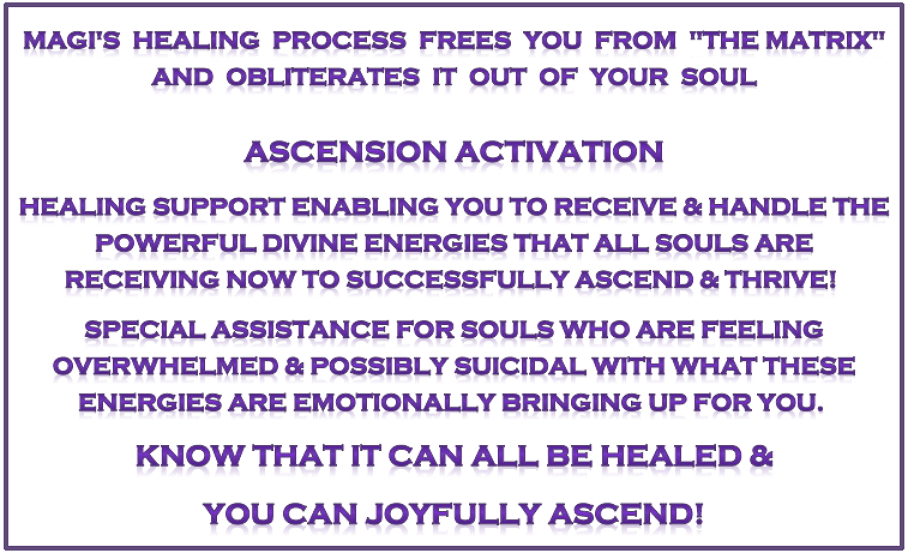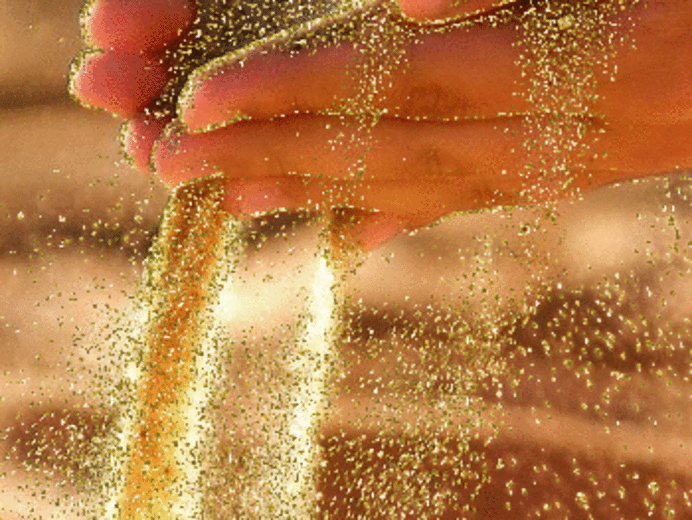 May we ALL be Blessed with Receiving Infinite Prosperity & Abundance Now
_______________________________________________________
The cost for a 90 minute In Person or Telephone Healing Session is $225 
(If this amount is challenging for you, we can negotiate a lower fee that is a win/win for both of us).
 It also includes a MP3 recording of the session. 
You can purchase a single session or purchase discount packages as follows:
One 90 Minute Healing Session: $225
Package of 3 Healing Sessions: $609

($203 each * This is a 10% discount for a $66 savings)
Package of 6 Healing Sessions: $1,146

($191 each * This is a 15% discount for a $204 savings)
Package of 10 Healing Sessions: $1,690

($169 each * This is a 25% discount for a $560 savings)
Click on the arrows on the right side of the white drop down menu below to choose 1 session or a discount package, then click "Buy Now". Payments are accepted through PayPal but you do not need a PayPal account to pay. You can pay by credit or debit card through PayPal.
Also available are:
Goddess Oracle Psychic Reading:  $50 for 30 minutes - Includes a FREE electronic recording (you must have access to the internet to receive the recording of your Reading) and appropriate written articles that support your personal healing needs are emailed to you after your Reading.
Note: For the Psychic Reading, some calls outside the USA may require an additional telephone charge.    
NOTE: For telephone sessions, payment is required before the session to reserve your date and time. For in-person sessions, payment is due at the time of service by check or cash.  Payments can be made through PayPal prior to the session. For 3, 6 or 10 Session Packages, the fee must be prepaid at least at least 4 days prior to your first appointment in order to qualify for the price reduction.
Included in the cost of a 90 minute Healing Session are the following 3 FREE items.
1.  A FREE electronic recording (mp3) of the session. (You must have access to the internet to receive a recording of your Healing Session.)
2.  A FREE 200 page Goddess Oracle Shamanic Healing Booklet with articles of Magi's powerful Healing tools, techniques and key information to support your at home healing process (First session only).
3. A FREE CD, as well as an MP3 of the  "Shielding, Protection & Reconnection to Soul & Divine Source" 60 Minute Visualization.
While a single session or three session package are powerful, clients who wish to go even more deeply into their healing process are invited to book a Six or Ten Session series. The power of and commitment to multiple weekly sessions, focusing on your issues or desired changes, has been found to make a tremendous difference. Each session builds on the progress from the previous session and important information appears in your process that is not easy to access within the time frame of a single session or three session format.
No Refunds.  All packages of healing sessions must be used within 6 months from the date of purchase.  
Cancellation Policy - 24 hours' notice of session change or cancellation.
If you contact me within 24 hours of your appointment, your appointment will be changed at no cost to you. If you cancel or do not make your appointment WITHOUT 24 hours' notice, you will be responsible for paying the full cost of the session.  24 hours' notice allows me the opportunity to offer your session time to another person. I do understand that sudden emergencies, illnesses, severe weather do not allow for a 24 hour cancellation and in those specific circumstances, you will not be responsible for paying the cost of the session. We will reschedule your session as soon as possible. If I should need to cancel a session due to illness or unavoidable circumstances, I will make every effort to contact you in a timely manner and all efforts will be made to reschedule your session as soon as possible at a mutually convenient time.
Healing Services Disclaimer Please read and agree to the following. The website healing information provided by Magi on www.reconnectedsoul.com is for informational purposes only and is not intended as a substitute for advice from your physician or other health care professional. You should not use the information on this site or from a healing session for diagnosis or treatment of any health problem. You should consult with a health care professional before starting any diet, exercise or supplementation program, before taking any medication, or if you have or suspect you might have a health problem. You should not stop taking any medication without first consulting your physician. Magi (Mari Angelique Raphael) is not a licensed Mental Health practitioner and therefore does not accept insurance. Clients and Apprentices of Magi (Mari Angelique Raphael) accept sole responsibility for information gained or utilized from this site or during a healing session(s), as well as their application. Magi (Mari Angelique Raphael) does not offer diagnosis of any kind, nor will she ever recommend going against the advice of medical and/or mental health professionals.