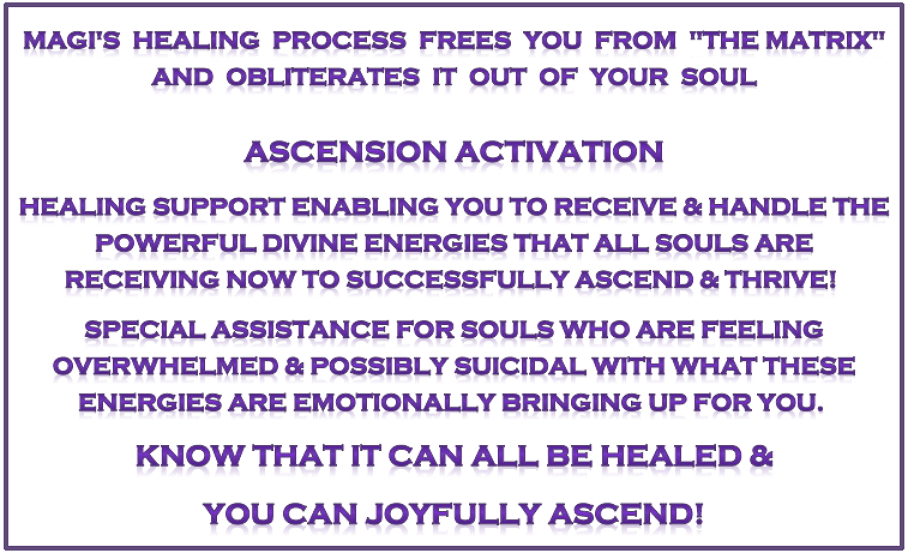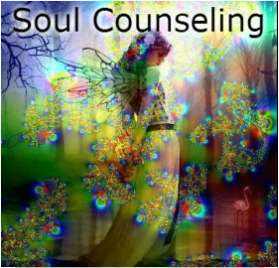 90 Minute One-on-One Multi-Dimensional Soul Healing Sessions   (In person or by phone)
Healing sessions for women, men, children, couples and families. Personalized healing for you…….focusing  on anything you want to heal within your heart, mind, body, Soul and life.  Magi's holistic and Multi-Dimensional Cosmic Shamanic Soul Healing process is very unique in that you will be able to heal and balance the totality of your Soul, all ages, all lifetimes, past, present and future, karmically, multi-dimensionally – simultaneously.

Learn how to heal and powerfully take your power back from any malevolent evil force in any form.
Magi powerfully connects to your Highest Cosmic Soul Self and Cosmic Divine Spirit/Source to receive clear and concise messages of what is for your highest good in each healing session, so that true healing and permanent Reconnection to your Soul and Divine Source is achieved.  Thus enabling you to manifest your full power and potential as your True Soul Self, thrive in every way and fulfill your destiny.
Healing is achieved through a unique combination of the cosmic consciousness sound vibrational healing of Magi's powerful and beautiful voice and the use of the following techniques in every healing session:
Soul counseling

Psychic readings

Guided visualizations

Grounding exercises

Energy clearing of your physical body, chakras and aura multi-dimensionally

Multi-dimensional shamanic Soul/Source retrieval

Inner child healing at a Soul level

Multi-dimensional shielding and protection that works

Dream interpretation

Balancing masculine and feminine energies
Through their healing sessions, my clients have achieved:
Powerful, multi-dimensional shielding and protection of the totality of their Soul and Life

Permanent Reconnection to their Soul & Divine Source

healing through their Soul, by remembering repressed memories and feelings, especially from childhood, of unresolved wounds and traumas

Healing interference by any malevolent evil force in any form

Learning to unconditionally love and empower themselves so they can thrive in every way

Learning how to use very powerful and high Cosmic Divine Healing Tools that enabled them to take their power back from any person, situation, place or thing
 I specialize in helping you to heal from:
Not being able to remember who you are as a Soul and fulfill your destiny

Not being shielded and protected

The illusion of being disconnected to your Soul and Divine Source

Unresolved childhood, teenage and adult wounds, traumas and abuse

emotional

spiritual/energetic – the totality of your Soul multi-dimensionally

Sexual abuse

Loss of a loved one

Satanic ritual abuse

Trauma based mind control

Alien abduction and implant clearing

Interference by any malevolent evil force that is harming and hurting you, possessing your Soul, mind controlling and feeding off your life force

Self-hate, self-sabotage and self-destruction, being overly critical – perfectionism

Acting out and harming yourself and others

BEING A VICTIM
As part of the cost of your first healing session, you will receive at no charge:
an electronic recording of each healing session

a 200 page

Goddess Oracle Shamanic Healing

Booklet

of all Magi's healing tools and techniques mailed to your home

a CD, as well as an mp3, of the

"Shielding, Protection & Reconnection to Soul and Divine Source"

60 minute visualization.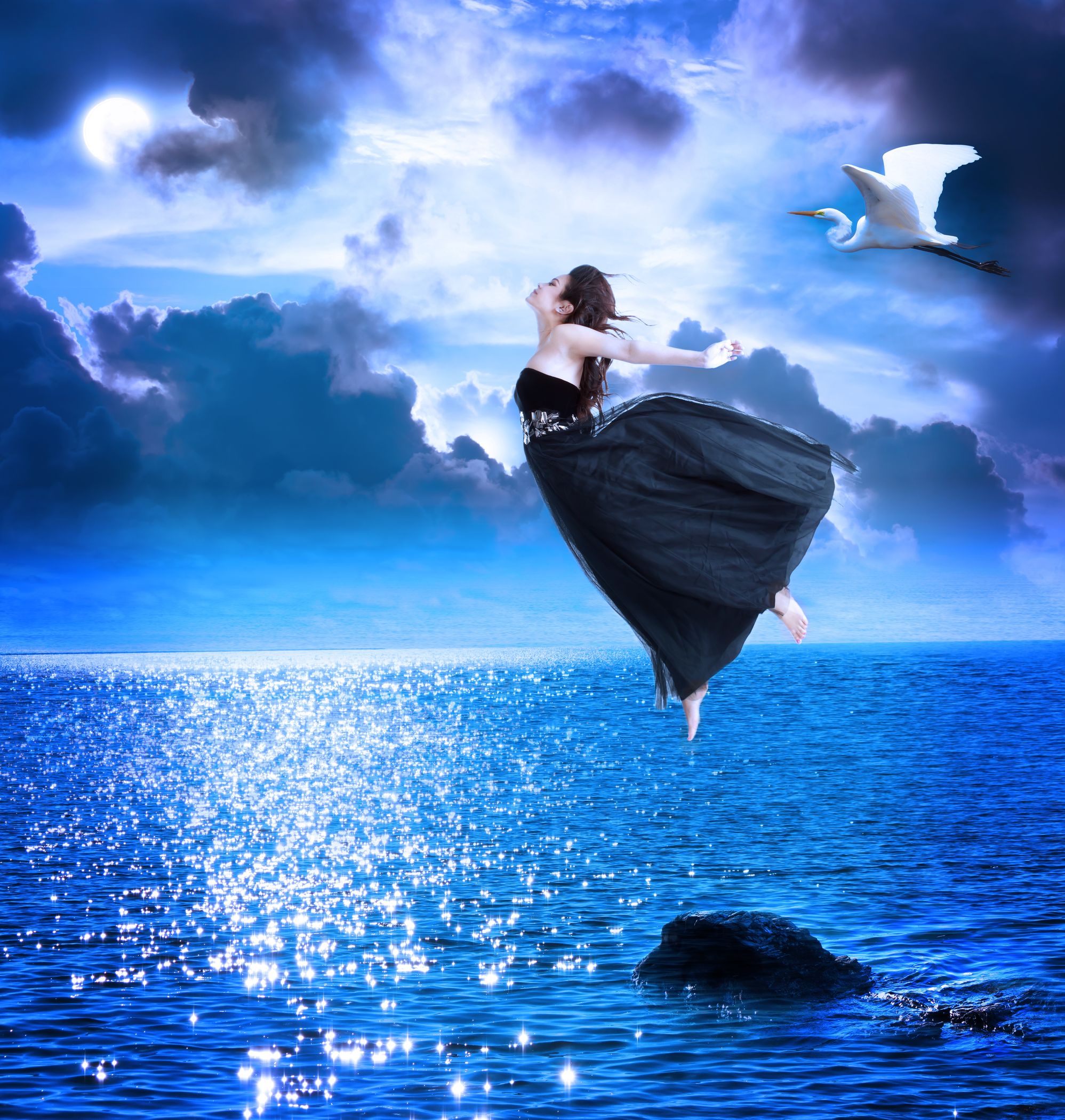 1 & 2 Day Multi-Dimensional Soul Healing Intensives
For those clients who want an accelerated multi-dimensional Soul healing experience working in person with Magi, powerful 3 hour, 1 & 2 day intensives are offered. Contact Magi regarding the cost.
1. Three (3) Hour multi-dimensional Soul Healing Intensive
2. 1 Day (6 Hours) multi-dimensional Soul Healing Intensive
3. Two Day (12 Hours – 6 hours each day) multi-dimensional Soul Healing Intensive
Cost includes materials, organic, gourmet lunch and snacks for each Intensive. 
Off-Site Healing Services
Magi can also travel to your home, office and work place for energetic space clearings, personalized multi-dimensional Soul healing sessions for yourself, couples, families, children and groups.  She also offers customized classes, workshops, intensives, Goddess Rituals and retreats in your home and local area.
Call 800-397-9084 for more information
.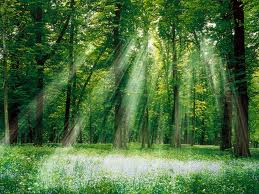 Multi-Dimensional Shamanic Soul Retrieval Ceremonies Out in Nature             (Done Only In Person)
Call 800-397-9084 for more information
IMPORTANT – A Multi-Dimensional Shamanic Soul Retrieval Ceremony in Nature can only be scheduled and received when the client has had several healing sessions with Magi.  A familiarity with Magi's healing process and high level healing tools is mandatory (and a certain level of integration and Reconnection to your Soul & Cosmic Divine Source has to have been achieved) to successfully accomplish this accelerated healing, transformation and multi-dimensional Soul and Cosmic Divine Source retrieval that takes place in this all day event – personally, customized for you in a sacred area in nature (beach, forest, desert, mountain).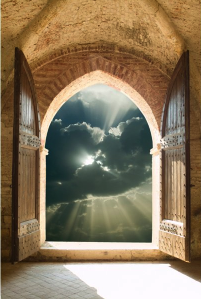 Energetic Space Clearing of Your Home, Office, Work Place    (Done Only In Person)
Magi is extremely gifted in creating your personal and/or professional living area to be a sacred and blessed space filled with joy, love, harmony and balance.  She is able to powerfully clear and exorcise negative, evil and imbalanced energies, entities, ghosts, poltergeists, demons, inter-dimensional ET's, malevolent portals/openings, etc., in any environment. 
She utilizes the sacred energies of her Oneness with the Highest Cosmic Divine Source (Cosmic God/Goddess/Spirit), shamanic, oracle and Goddess spiritual practices of energy purification and protection.  She will turn your home or workplace into a sacred, healing space of positive energy – to magnetize and attract only good into your life!  What she does will dramatically increase your prosperity and abundance, relieve stress and anxiety, provide you with a greater sense of wellbeing, increased energy and vitality and accelerate your spiritual awakening….and much, much more!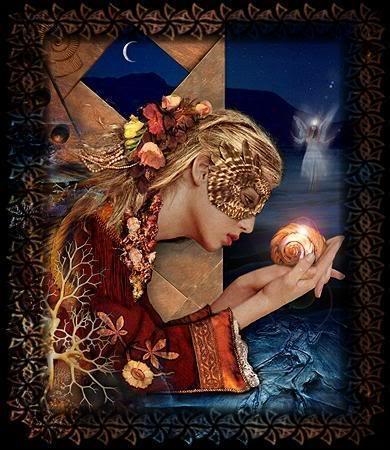 Goddess Oracle Psychic Readings    (30 minute session for $50)
In a 30 minute Goddess Oracle Psychic Reading (for only $50), Magi can help you by answering your questions about important areas of your life where you are stuck, confused and/or lost.   Also, areas where you feel yourself needing loving help, support, guidance and assistance.
Magi receives intuitive, psychic messages from your Highest Cosmic Soul Self and Cosmic Divine Source – God/Goddess/Spirit.
These messages could be in areas such as major life transitions of:
divorce

death of a loved one

job loss

losing your home and/or radical shifts in your living circumstances

money

love

relationships

work – career changes

health challenges

solving a recurring problem

seeing if malevolent evil forces are interfering with you in any way

understanding what needs to be done to completely remove malevolent evil forces that are interfering in your life

how you can be more reconnected to The Truth of who you really are as a Soul and be in greater Oneness with The Cosmic Divine Source of Us All

how you can thrive and be fulfilled in every way
Magi has been a very powerful Oracle/Psychic her entire life.  She began giving highly, intuitive readings as a very small child with astounding, life changing insights.
 A FREE electronic recording* of your Goddess Oracle Psychic Reading and written materials are included.
*You must have access to the internet to receive a recording of your Psychic Reading.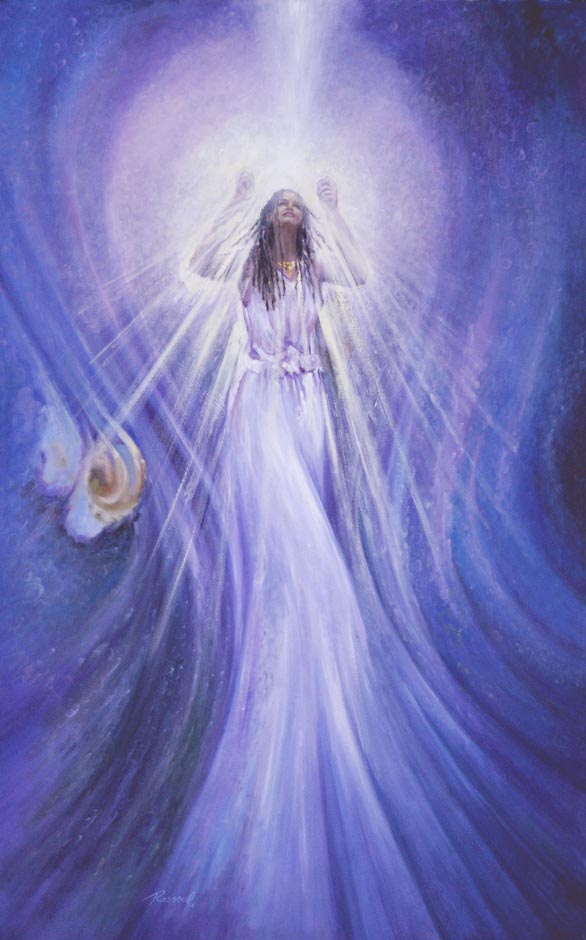 Apprenticeship Training 
Note:  To be eligible for Apprenticeship Training evaluation by Magi, you must have been doing healing sessions for an extended period of time.  Call Magi to schedule a private interview by phone or in person.
Click this link Apprenticeship Training for a more comprehensive overview and the story of Camille, my current Apprentice and her personal journey.