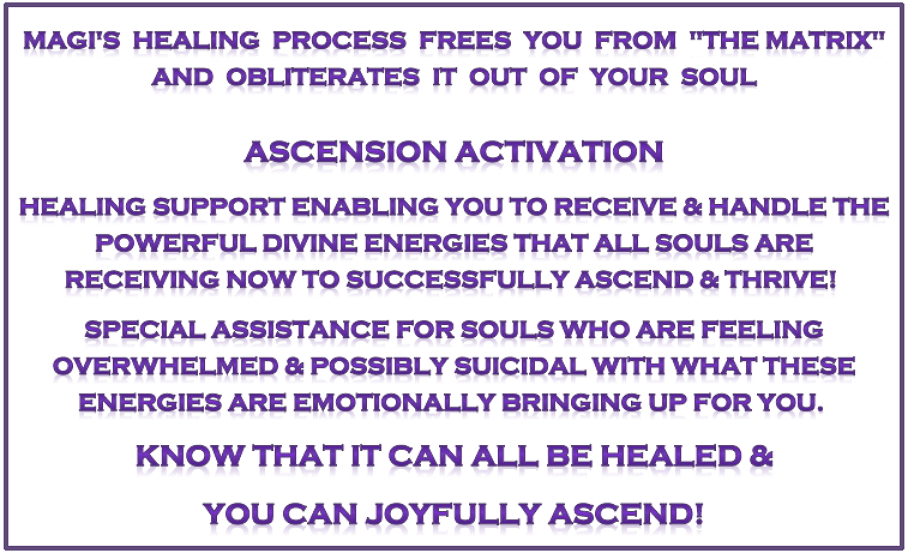 "YOUR HEALING SESSIONS WORK!!!"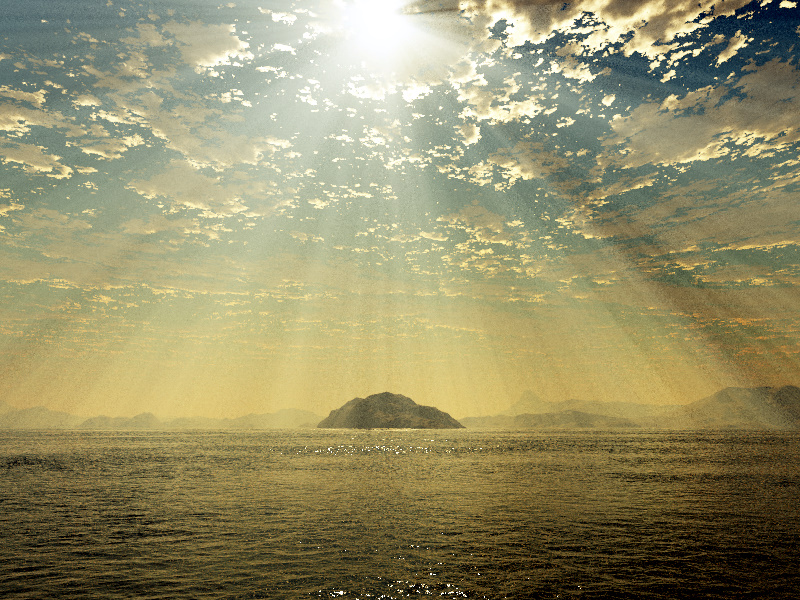 "My whole life I've been harassed and terrified by confusing "paranormal" abuses ("The Matrix", reptilians) that nobody could understand, if I dared to tell. Magi understood! Completely. And she knew exactly what to do about it. I never got that from traditional therapy or New Age "all is wonderful" lies. How refreshing it was to talk candidly about things I've had to rationalize away my whole life. She makes the extraordinary ordinary so you can deal with it in practical, intelligent ways. She shrinks giant terrors down to a manageable size – and then down to nothing at all.
Magi never lets you forget that you're the one with the POWER.
YOU CAN and WILL overcome all negative interference.  
 It's hard to accept that malevolence exists around us, in the multi-verse we live in, but Magi empowered me with tools and visualizations to protect myself and re-connect with the healing, protective, and unconditional-love energies of my own Soul and Source – which the negative can't tolerate! It works. I'm so much happier, healthier, and freer with my new understanding of it all. I'm so grateful! Thank goodness I came across her website and reached out. I never could have figured things out without Magi's amazing expertise, thoughtfulness, and intuition. She puts in 1000% to help you, because she truly cares. I could not be more relieved and thankful."  
Monica Livingston     Environmental Ecologist     Vancouver, British Columbia
———————————————————————————————————————————
.___
Your Healing Sessions have a ripple effect long after the session is done.  I feel my connection to Divine Source and to my Oneness in ways that I never thought possible.  
Magi, you are awesome. You are a Spiritual Warrior, a Goddess that has been guiding and leading many to "our" own spiritual awakening & enlightenment.  The way in which you honor and bless your clients and All Souls is beautiful.
Christine W.   Vice President in the Entertainment Industry   Manhattan, New York
—————————————————————————————————————————————
"Heal Your Life at the Deepest Level ~ Your Soul"
I was immediately attracted to these words when I saw them in an ad Magi ran in a publication in my area. 
I called Magi and so, my healing journey with her began.  It wasn't long before I knew the inner work Magi was guiding me through was unlike any therapy I had experienced.  It was so much deeper and loving – it was at my Soul level.  
Magi has a gift to help us heal and reclaim those injured and lost parts of our being.  With Magi's guidance, my Soul comes forward and reveals what needs healing.  It is truly amazing!  
Magi is there to love, teach and guide us through the healing process.  She is a beautiful Soul who helped me open my heart.
"Perhaps she can help you open your heart too."
I am a happier person. I feel a peace within. I have the confidence, training and tools to eliminate fear from my life.  
Magi is a divine and integral part of my journey in finding my True and Loving Soul Self.  I am forever grateful.
 Lyn K.    Educator  Sonoma, California
—————————————————————————————————————————————
"After years of that "New Age" crap, I was a mess."
I tried lots of so called Healers and Energy Workers who just told me to "focus on the Light and Love – don't let any negative thoughts or feelings into your space.  Meditate on the highest principles of Love and Serving." 
Now, don't get me wrong, I do well in my work as an executive in a software company.  By all outward appearances I am very successful…but there was something wrong that I couldn't talk about with anyone.  If I did, they would think I was crazy.
"That is until I found Magi.  What a breath of fresh air!"
I really needed a Healer/Shaman who could help me!  I was desperate.  I felt like I was being attacked daily by malevolent evil forces.  I felt possessed by demons.  These negative energies were always trying to take me over – my brain, my physical body, my heart, my Soul…It became terrifying.
Magi is such a powerful woman who understands and deals with these negative forces because she has fought her own battles and has won.  She has "been there, done that"!  She was the first Healer/Teacher to really show me how I had the power to Shield and Protect myself from evil interferences…and that was in my first telephone Healing Session with Magi.
I see Magi as a "trailblazer", leading the battle against the malevolent evil forces that want me/us to stay in fear and to remain victims/slaves. 
Well, watch out because…this Goddess Oracle Shamanic Healer MAGI…is here, lovingly and powerfully guiding, teaching and showing us the way to heal our wounds, be free of this enslavement and permanently reconnected to our Soul and Divine Source.
James A.  Software Executive  Johannesburg, South Africa

—————————————————————————————————————————————
With Magi's guidance, I am better able to further develop and use my own healing gifts, which equates to really living vs. merely existing.
"I was suffering from malicious energetic attacks when I received internal guidance to do a search for a powerful healer who would be willing to see me in person as well as work with me by telephone. Magi's information popped right up. I contacted her and she responded immediately.
I felt Magi's loving and very real support from that moment on.  
I really felt like my situation had escalated to a life or death matter. Magi dealt with these big forces that were negatively affecting me with strength and confidence. Magi is the real deal!
Every day since Magi brought me under her wing, I have felt a profound level of protection and love that wasn't there before.
Magi gave — and continues to give — me practical tools that I easily use each day and I am able to now keep myself shielded (which is vital to my survival, as well as to a good quality of life).
Thank you, dear Magi. Thank you so much!"
Shannon M., Editor, Veterinary Assistant, Animal Healer & Advocate  San Luis Obispo, CA
—————————————————————————————————————————————
"Magi truly is…THE HEALER'S HEALER!"
"Magi's gifts in dealing with forces of the dark and evil are like no other"
"Many "Healers" attempted to assist me. Only Magi with her expertise, experience and adeptness was able to intuit the inter-dimensional nature of these evil forces and the multifaceted ways in which they were exerting their negative influence upon my Soul.  Magi offered me true relief and healing that has changed my life. Thank you, thank you, thank you."
Giselle W.   Sound Vibrational Healer  Newport Beach, CA
—————————————————————————————————————————————
 "Magi taught me to be my own conduit and vessel connecting me to the Divine"
I was hurting, stressed and feeling overwhelmed…through Magi's Powerful Telephone Healing Sessions I experienced and learned to bring myself back into balance. 
If you're ready to become your "highest Soul self", operating in true Oneness…Magi is the one to call.
With Magi's assistance, I was able to release years of toxic baggage that had been creating numerous road blocks in all areas of my life. Today, I literally feel lighter, safer and my heart feels open again after ending a painful 7 year relationship…even while enduring a 4 year custody battle.
Magi provided me with the tools to reclaim my power, ending a long cycle of being manipulated in relationships.   I can now stand up for myself and I am no longer a victim. Traditional therapy did not begin to match the release and recovery that I experienced with Magi.
"Magi helps me to remove the veil of ego, fear, pain and suffering so I can powerfully & courageously continue on my journey and…Do my life's work successfully!"
Suzanne C.  Mother/Actress/Writer/Social Activist  San Francisco, CA
—————————————————————————————————————————————
"I get a lot of great things from Magi by working with her…"
a really good bunch of articles to read & re-read when we started working together

recordings of my healing sessions with her each week

but most of all her skill, ability & commitment to help people feel & heal, even a regular guy like me. 
With Magi's help, I learned how to feel and talk about what I was feeling; first with Magi and then with my wife.  It's been hard to feel and talk about them but things are so much better now.  The telephone sessions we have are very powerful. 
There is something about her voice. It's like the sound of it enters my brain and helps me change, heal, grow and evolve as a Man and as a Soul.  I don't know what it is, I just know it feels right and it works.
Magi was (and still is) very patient with me, but when I slack off and don't "do the work" she gets me back on track…quick.  I learned through our work together that I am responsible for myself – for my healing, my thoughts, my feelings and my actions; no one else is.
"I HAVE TO DO THE DEEP AND SOMETIMES PAINFUL FEELING & HEALING WORK ON MYSELF!
NO ONE IS GOING TO "SAVE ME" OR "FIX ME"…"
…not God, a Healer, my wife or anyone else.  I heal and then change only if I am an equal partner with God facing, feeling and releasing my unresolved wounds through my Soul. My wife REALLY thanks you for that Magi (and so do I).  I'm a better husband, a better Dad, a better Son and a better Man today because of working with you Magi.  Thank you.
With Gratitude and Love,  Tyrone M.  Director of IT,  Bangkok, Thailand
—————————————————————————————————————————————
"Magi didn't just hand "hope" to me…
she helped me find it for myself"
Hope was something that I had lost in recent years and I wasn't sure I would ever be able to find it again. Magi is someone who helped me re-discover hope.
The most powerful internal energy work I have ever encountered in my life has been with Magi, as she understands the very basic fundamentals of energy, love and compassion. These are the simple things that we need to evolve within our Souls and we can't do it alone.
I have found in Magi, a true source of empowerment. The best guides that you could possibly have are the ones that have traveled through the treacherous mountain passes.
Why would you want someone to guide you through the challenging elements of your life if they hadn't been through them in their own life?
Teaching from experience provides for the most profound learning. Magi has "been there" and is THAT TEACHER!!!
I have noticed that my internal daily fears have begun to dissipate. 

I am no longer afraid to fly.

I am no longer afraid to challenge myself.

I am no longer afraid to find true love

 

I am no longer afraid to become the most powerful woman that I can possibly be!!!
I have noticed a difference in my physical appearance as well. I am light again. I have more energy. I no longer crave cigarettes (and this wasn't even something that I was trying to do!).
There is an overall state of healing and rejuvenation that occurs once you start working with Magi. To describe the layers of transformation that take place is almost impossible to put into words!
What is most important to me about this work?
Magi teaches ME to want to do the work for myself.
Ultimately, at the end of the day, I am the one that has to change myself. Magi is there to be a confidante and a listener… A nurturer and a guide… An inspiration and an example of an all around unconditionally loving human being.
Magi is nothing short of magical. I am truly blessed to have crossed her compassionate Soul.  I strongly encourage anyone who is looking for unconditional and loving support and transformation in their life to call Magi. Reconnect to that truly amazing gift that we each are – our Soul.
"Thank you Magi! I am so grateful to have found you!"
Kaila  Entrepreneur  Los Angeles, CA
————————————————————————————————————————————–
"To me, Magi was God sent"  
I actually prayed about looking for a healer to help me with my spiritual crisis of being attacked by "the dark" in various ways.  I opened the bible and there was a verse stating that God had His Doctors for anything that needed to be healed on the Earth and Magi is one of these servants of God.
I found Magi on Google by putting in my symptoms and I am very happy to have found her.  I did not know what was going on and I had already gone to over 20 churches for help.  I felt that my faith was being tested but little did I know that it was beyond faith. 
"I was dealing with "the dark" harming and interfering with me and I couldn't find anyone who knew exactly what this was and how to heal it. 
I was under very heavy psychic attacks by "the dark" and I could barely function."
Throughout my healing process of working with Magi I began to get better and noticed how I could actually go outside and enjoy moments with my children which I had not been able to do before I met her.  I had to deal with many unresolved wounds and traumas going all the way back to child birth and throughout my childhood and was able to heal what was there.
Although dealing with my wounds and traumas was very painful, I was resolving the real issues of why "the dark" was attacking me and how it had escalated to the point that it was dramatically affecting every area of my life.
"Shortly after working with Magi 
I was able to get a vehicle and find a job."
I am currently functioning with the tools that Magi has provided so I can make a living.  She has a very compassionate heart and I have felt that she was the only one who understood me because she had been through the same things herself.
I would HIGHLY recommend Magi to anyone who feels that something has taken over their life.  I am building myself back up with Magi's help, this time with a solid foundation.   I have hope for a future which I did not believe I could have when I contacted her.  I give the glory to God for all of the wonderful things Magi is able to accomplish because of her hard work on herself, her commitment to helping others to heal and the gifts bestowed upon her by God. Magi has lifted me up from a very dark place. You will be in good hands with Magi.  She has a wonderful gift of how she communicates. Thank you so much for everything Magi and I look forward to our future sessions together!"
Elizabeth R.   Commercial Credit Analyst   Stockton, CA
—————————————————————————————————————————————
"Magi, you are a FIGHTER and have helped me become one too"
"Thank you Magi.  You have made such a difference in my life.  I have learned, felt, healed and grown so much over this past year.  I distinctly remember how much more empowered and connected to myself I felt after ONLY 6 sessions.

I have worked with a number of healers and therapists over the years – NONE even come close to providing;
1.  the practical tools for emotional and spiritual growth and awakening. WOW, you are amazing!!!

2.  the emotional support I feel that your ability to have such incredible empathy and compassion for me is rooted in the deep work that you have done in your own healing process for yourself. You know my pain because you have faced, felt and healed your own.
3.  the teaching and motivation to help me ignite the "fire in my own belly".
"Thanks to our work together, I am no longer a victim at work or in my personal life."
Karl S.  Computer Programmer  Sydney, Australia
——————————————————————————————–
"Magi has taught me to disengage from malevolent evil forces with very powerful tools and techniques that work!"
Very few times in my life have I met a Healer that has helped me in all aspects of my life, especially mentally and emotionally. I've met this person. Her name is Magi. Before working with Magi, I felt like malevolent evil forces were all around me, attacking me and interfering in my life.  
I was angry at the organized religions for not teaching people about these evil forces. I was being attacked in my sleep by aliens and demonic forces. After a few sessions with Magi the connection to theses evil entities was no longer there. Magi is a real, special person. 
"Magi's work may be controversial but it's the Truth… and learning the truth has set me free!"
Lilly G.  Receptionist  Arlington, Virginia
——————————————————————————————–
"I believe my children and I are truly protected and no harm can ever touch our lives again!"

When Magi helped me to cut the energetic cords to alien abduction and disintegrate the implants for myself and my two children; immediately what we noticed was that sense of unknown fear that we all walk around with disappeared.
"I wasn't scared anymore and my children were no longer afraid to sleep alone."
And, whenever we feel that a negative evil force is trying to "get us", we are able to over power that energy and those fearful thoughts.
Lori W, John (age 12) and Kristi (age 10)   Public Relations, Corporate Executive   London, England
——————————————————————————————–
Goddess Oracle Psychic Readings with Magi
I've so enjoyed my Goddess Oracle Psychic Readings with Magi.  She has helped me with both business and life decisions, and continues to be a wise and compassionate guide. I highly recommend Magi to anyone who might be stuck or making transitions in any area of his/her life — and guarantee that you will feel energized and empowered after just one session. I feel so lucky to have found her!
Kim B.  Designer/Art Director  Sante Fe, New Mexico